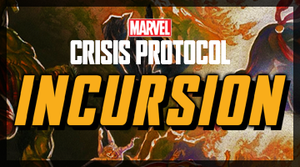 Marvel Crisis Protocol - Incursion, September 30th, 11:00 AM
Welcome to the third MCP Narrative event at TTBromley! Participants will require a basic grasp of the rules, their own miniatures (with the corresponding character and tactic cards), measuring tools and dice.
Tournament pack can be found here.
The event will be divided into 3 rounds. Each round will have its own Crisis designed to follow the narrative, and a randomized threat level between 14 and 20.
Event Schedule:
11:00 Registration

11:30 First Round

13:15 Lunch Break

13:45 Second Round

15:30 Third Round

18:00 Prize Ceremony
Participants are also encouraged to bring their own mats and  tables to show off and use during the event! There will be prize support prepared for the best table voted by everyone. The store will provide space as storage if anyone would find it easier to drop those tables ahead of time.
Please arrive 15 minutes early to any events to leave time for registration. Tickets are available on the day, but a pre-purchase is recommended for popular events. If an events tickets are sold out it has been fully booked. Refunds can only be issued 7 full days prior to the day of the event. If the store must cancel an event due to unforeseen circumstances a full refund will be issued.